CMU Bearing Wall Detail-AutoCAD
Hamoun Nik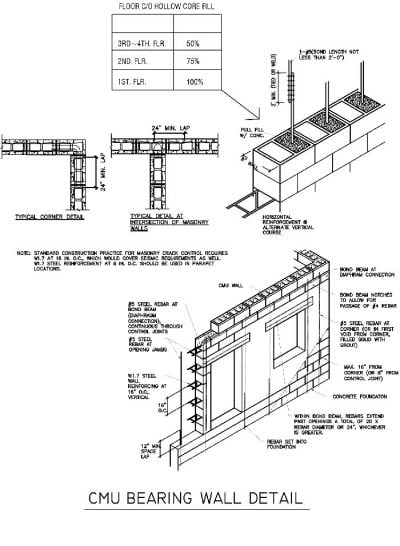 A CMU (Concrete Masonry Unit) bearing wall refers to a type of structural wall made of concrete masonry units, commonly known as concrete blocks. These walls are designed to handle the vertical load of the structure, transferring it to the foundation. They are widely used in residential, commercial, and industrial construction due to their durability, strength, and cost-effectiveness.
CMU bearing walls are typically constructed by stacking individual concrete blocks, which are rectangular in shape and have hollow cores. The blocks are made of Portland cement, aggregates, and water, which are mixed and molded into the desired size and shape. The hollow cores provide space for reinforcement, such as steel bars, which enhance the strength of the wall.
These walls are considered load-bearing because they support the weight of the structure above, including the floors, roof, and additional loads. The blocks are laid in a staggered pattern, with mortar applied between the joints to bond them together and create a solid wall. The mortar acts as a structural element, distributing the load across the blocks and ensuring stability.
CMU bearing walls offer several advantages. Firstly, they are fire-resistant, providing a higher level of safety compared to other wall systems. Additionally, they have good thermal properties, providing insulation and reducing energy consumption. They are also resistant to pests, moisture, and damage from weather conditions.
To ensure the strength and stability of CMU bearing walls, they must be properly designed and constructed. Structural engineers consider factors such as load requirements, seismic forces, and soil conditions when designing these walls. Reinforcement is incorporated into the wall at specific intervals to enhance its load-carrying capacity and resistance to lateral forces.
FILE PASSWORD: www.hnrepublic.com