Certificate of Occupancy and TCO in NYC
Hamoun Nik
A Certificate of Occupancy (CO) is very important in the field of real estate in New York City. It serves as a crucial document that confirms the legal use and occupancy of a building, ensuring compliance with relevant laws, Building codes, Zoning, and regulations. The CO is essential for both new constructions and existing buildings that undergo changes in use or occupancy. Without a valid CO, no one can legally occupy a building, making it a pivotal element in real estate transactions, mortgage processes, and renovations.
A Certificate of Occupancy is issued by the New York City Department of Buildings (DOB) upon the completion of new buildings or alterations, following a thorough process of inspections and paperwork completion. The CO contains detailed information about the building, including its designated use, maximum occupancy per space, construction classification, fire protection systems, zoning use group, and other vital details. It plays a critical role in verifying the property's safety, suitability for occupancy, and compliance with building codes and zoning resolutions.
New buildings and properties that undergo changes in use, egress, or occupancy must obtain a current or amended Certificate of Occupancy. Obtaining a CO involves various inspections, sign-offs, and approvals to ensure that the building meets all necessary requirements and regulations. CO requests are submitted through DOB NOW: Build and undergo review by technical and operations staff before issuance.
Certificate of Occupancy vs TCO
There are two types of Certificates of Occupancy: Temporary CO (TCO) and Final CO.
TCO
A Temporary CO is a short-term approval that allows for occupancy while the building is still undergoing construction or renovation. It provides a means for developers to sell completed units even if the building is not fully finished.
Final C of O
On the other hand, a Final CO is issued when the building has met all necessary requirements and is ready for permanent habitation. However, it is essential to understand that TCOs do not grant indefinite occupancy, and structural changes may be needed in the future for the building to obtain a Final CO.
For potential buyers or renters, the presence of a valid Certificate of Occupancy or Temporary Certificate of Occupancy is critical before making any real estate transactions. If a property lacks a CO or TCO, it can lead to complications in the mortgage process, and landlords may need to address missing documentation for renters. Renters, in turn, have the right to withhold rent if a valid CO or TCO is not present.
Overall, a Certificate of Occupancy is a foundational document that safeguards the interests of property owners, tenants, and developers. It certifies that a building is safe for habitation, confirms its intended use and occupancy permissions, and ensures compliance with all applicable building codes and zoning regulations. By obtaining a CO, property owners can establish the legality of their buildings and provide assurance to potential occupants and stakeholders. Thus, understanding the significance of a Certificate of Occupancy in NYC is vital for anyone involved in real estate transactions, renovations, or legal matters related to property occupancy and use.
Obtaining a Certificate of Occupancy (CO) is essential for the legal use and occupancy of any building. For new constructions, a CO is mandatory, and existing buildings may require an updated CO in case of changes in use or occupancy type. However, there are situations where a Temporary Certificate of Occupancy (TCO) becomes necessary, serving as a temporary solution while certain issues are being resolved for a final CO. Let's explore when you need to get a TCO in NYC and the significance it holds in the city's real estate landscape.
A Temporary Certificate of Occupancy (TCO) is a legal document issued by the NYC Department of Buildings that allows safe occupancy of a building for a limited period. TCOs are typically valid for 90 days and can be renewed if needed. The primary scenario where a TCO is required is when there are unresolved issues that prevent the issuance of a final CO. These issues may range from incomplete construction work to pending permits or inspections.
Developers in NYC often aim to obtain a full Certificate of Occupancy (CO) for their high-rise condominiums, signifying that critical infrastructure is functional. However, the process of obtaining a CO can be costly and time-consuming. To avoid delays in selling units, developers may choose to sell them with a TCO or an Interim Certificate of Occupancy (ICO), even if the building isn't fully completed.
This presents an opportunity for buyers, but they must be cautious when purchasing units with TCOs or ICOs, as they signify that the building is not yet fully compliant with all regulations and habitation requirements.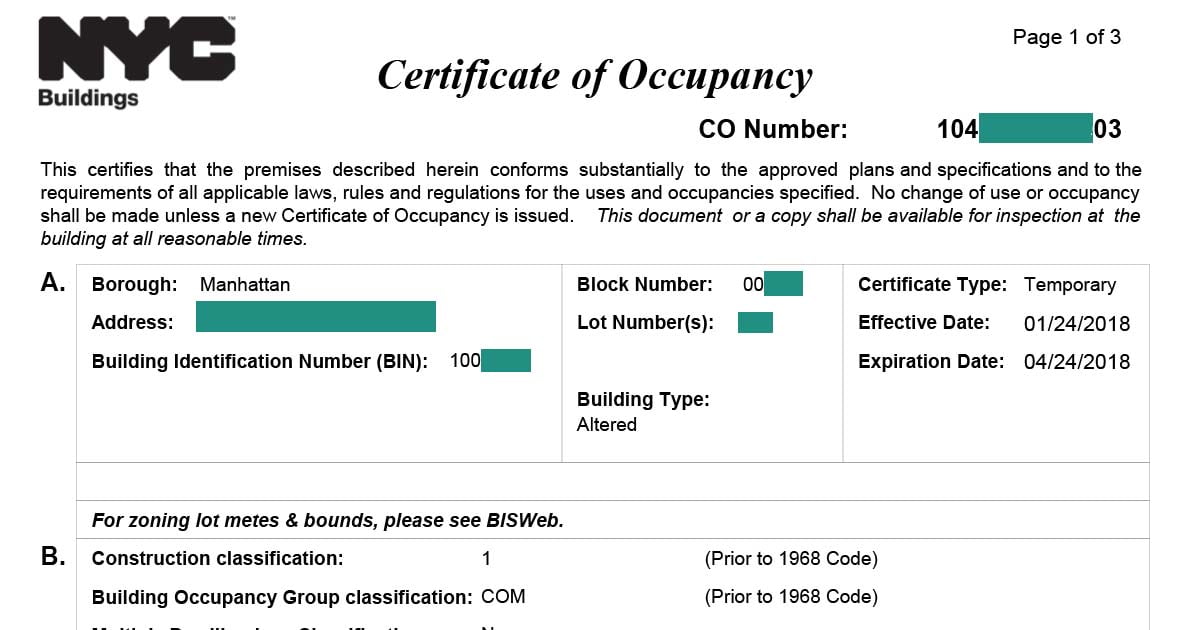 TCO Process and Limits
To obtain a TCO in NYC, specific inspections must be successfully completed, including construction, electrical, plumbing, and elevator inspections. Additionally, the application for a TCO must be submitted with an approved occupancy schedule and PW7 form, and a fee of $100 is required (unless exempted). It is important to note that if the space remains unoccupied for over 30 days, a new TCO is needed for re-occupancy.
Interim Certificates of Occupancy (ICOs)
The NYC Council introduced Interim Certificates of Occupancy (ICOs) in December 2020, aiming to streamline the occupancy process and eliminate the need for TCO renewals while ensuring compliance and safety standards. ICOs allow for partial occupancy of qualifying buildings before full construction completion.
Purchasing a property with a TCO can be risky, as it may lead to difficulties in obtaining insurance, financing, or selling the property if the TCO expires and is not renewed. The NYC Department of Buildings advises buyers to negotiate based on a final Certificate of Occupancy (CO) to mitigate risks. A final CO certifies that the building's completed work complies with all laws, regulations, approved plans, and necessary approvals and fees are cleared. Buildings constructed before 1938 may not need a CO unless there are later changes affecting use, egress, or occupancy.
In summary
A Temporary Certificate of Occupancy (TCO) becomes necessary in NYC when there are unresolved issues that prevent the issuance of a final Certificate of Occupancy. It allows for temporary safe occupancy of a building while necessary work or permits are completed.
Developers may use TCOs or ICOs to sell units before a building is fully completed, but buyers should exercise caution and understand the potential risks involved. Overall, the TCO plays a crucial role in the dynamic real estate landscape of New York City, ensuring safety and compliance during the construction and occupancy phases of a building.
Thank you so much for reading our post. We would like to hear about your projects and ideas, If you have any questions about Expediting, DOB filing or any paper work, you can contact us