Construction General Contractors' Duties
Hamoun Nik
In construction, a construction general contractor, often known as a general contractor (GC), is pivotal for project success. They oversee all aspects of a construction project, serving as the linchpin that holds it together. General contractors bring together various project elements, ensuring smooth progress from start to finish. They play a significant role in translating the client's vision into a tangible structure, bridging the gap between expectations and practical execution. Their orchestration of subcontractors, suppliers, and laborers makes them indispensable in construction, making them the conductors of construction projects. Understanding their definition, importance, and responsibilities is key to comprehending construction management.
Role of a  Construction General Contractor
A construction general contractor, often referred to as a general contractor (GC), plays a central and indispensable role in the world of construction. Their responsibilities are multi-faceted, encompassing project management, coordination of various construction aspects, and the critical tasks of keeping the project on schedule and within budget.
Explanation of the General Contractor's Central Role
The general contractor is the linchpin of any construction project, serving as the orchestrator of the entire operation. They are the focal point through which all project elements converge. The GC's primary function is to act as a bridge between the client's vision and the practical execution of the project. They take charge of bringing together various subcontractors, suppliers, and laborers, ensuring that everyone is working in harmony to realize the project's goals. This central role demands a unique skill set, combining leadership, project management, and construction expertise.
Coordinating Various Aspects of Construction Projects
A GC is responsible for the seamless coordination of the diverse elements of a construction project. They oversee subcontractors, manage the procurement of materials, and monitor the workforce. This coordination is vital to prevent delays, resolve conflicts, and maintain efficiency throughout the project's lifecycle. 
Track the Project Schedule and budget
One of the paramount responsibilities of a general contractor is to ensure that the project adheres to its timeline and budget. They meticulously plan and schedule tasks, monitor progress, and make necessary adjustments to prevent overruns. Their cost management skills are vital in keeping expenditures within the client's financial boundaries. This vigilance is critical in delivering projects on time and within the allocated budget.
Project Management
Project management in the construction industry is a multifaceted role that encompasses overseeing and orchestrating every aspect of a construction project, from inception to completion. It is a pivotal function that ensures projects are executed efficiently, on time, and within budget.
One of the primary responsibilities of a project manager is to hire and supervise subcontractors and construction workers. This involves selecting skilled individuals or companies, negotiating contracts, and managing their work on-site. Effective management of this aspect ensures that the right talent is assigned to the project, contributing to its successful execution.
Project managers are also tasked with handling project costs and budgeting. They are responsible for creating a comprehensive budget that covers all project expenses, from materials to labor. Managing costs effectively is essential to prevent budget overruns and keep the project financially viable.
In summary, project management in construction is a multifaceted role that involves overseeing the entire project, hiring and supervising subcontractors and construction workers, and managing project costs and budgeting. This role is critical in ensuring that construction projects are completed successfully, meeting quality, time, and budgetary requirements.
Compliance and Regulations
Compliance and regulations play a vital role in the construction industry, ensuring the safety, quality, and legality of building projects. Construction professionals must navigate a complex web of local building codes and regulations to ensure that their projects meet the required standards.
One of the core responsibilities in construction is ensuring compliance with local building codes and regulations. These codes are in place to safeguard the well-being of occupants, promote structural integrity, and address environmental concerns. Failing to comply can lead to legal issues, delays, or even project shutdowns.
Securing necessary permits and approvals is a critical step in regulatory compliance. Construction projects often require various permits, such as zoning permits, building permits, and environmental permits. These permits serve as official authorization from local authorities to proceed with the project, and obtaining them is essential to avoid legal complications.
Implementing safety measures on the construction site is another fundamental aspect of compliance and regulations. Construction sites are inherently hazardous, and safety protocols are mandated to protect workers and the public. Failure to implement these measures can result in accidents, injuries, and legal liabilities.
<<<for more information about how to renovate a Co-Op apartment in NYC you can click here and read the article.>>>
Communication and Client Relations
Effective communication and client relations are indispensable in the construction industry. The success of any construction project relies on clear and consistent communication with clients and stakeholders. This not only fosters trust but also ensures that the project aligns with the client's vision and expectations.
One crucial aspect of communication in construction is maintaining an open line with clients and stakeholders. Regular updates and transparent communication build trust and help clients stay informed about project progress. This open dialogue enables clients to actively participate in decision-making and provides opportunities for immediate issue resolution.
Addressing client concerns and requests is equally vital. Construction projects often involve intricate details and client-specific requirements. Contractors must actively listen to client concerns, accommodate their requests when possible, and offer professional guidance when necessary. A responsive approach not only enhances client satisfaction but also prevents misunderstandings that can lead to project delays and disputes.
Keeping clients informed about project progress is a fundamental responsibility. This includes providing regular reports on milestones achieved, challenges faced, and any deviations from the original plan. Effective communication in this regard allows clients to make informed decisions, adapt to changing circumstances, and understand the project's trajectory.
Quality Control
Quality control is a cornerstone of the construction industry, vital for delivering safe, durable, and well-executed projects. It revolves around the meticulous management of processes, materials, and workmanship to ensure that construction aligns with design specifications and industry standards.
The foremost responsibility of quality control is to ensure that construction meets design specifications. Every project begins with detailed blueprints and plans. It is the quality control team's duty to meticulously compare the ongoing work to these plans, verifying that dimensions, materials, and structural elements adhere to the design. This process helps prevent costly deviations and ensures that the final structure is as intended.
Implementing quality control and inspection processes is a structured approach to achieving consistency and excellence in construction. It includes regular inspections and assessments at different project phases. By identifying and addressing issues early in the construction process, quality control helps prevent defects, rework, and costly delays.
Resolving issues and defects as they arise is an essential part of quality control. No construction project is entirely free of issues, but how these problems are managed can make the difference between success and failure. Quality control professionals work closely with contractors and subcontractors to address any concerns promptly. This proactive approach minimizes the impact of defects and maintains the project's timeline and budget.
Problem Solving
Problem-solving is an intrinsic part of the construction industry, as it entails overcoming myriad challenges that can arise during the course of a project. Construction professionals are adept at identifying and addressing challenges to ensure that a project remains on track and is successfully completed.
The first step in problem-solving involves identifying and addressing challenges that may emerge during construction. These challenges can range from unexpected site conditions to weather-related issues, supply chain disruptions, or human resource constraints. The ability to quickly recognize these challenges is crucial in preventing them from derailing the project's progress.
Finding creative solutions to unexpected issues is a hallmark of successful problem-solving in construction. In this dynamic field, no two projects are identical, and unforeseen problems are almost guaranteed. Construction professionals draw on their expertise and creativity to devise innovative solutions. Whether it's resequencing tasks, modifying designs, or adapting to changing circumstances, problem-solving in construction often requires thinking outside the box.
Keeping the project on track despite obstacles is the ultimate goal of effective problem-solving. Timelines and budgets are always at stake, and the construction team must work diligently to overcome obstacles while staying within the project's parameters. Effective communication and collaboration among all stakeholders are vital in these situations.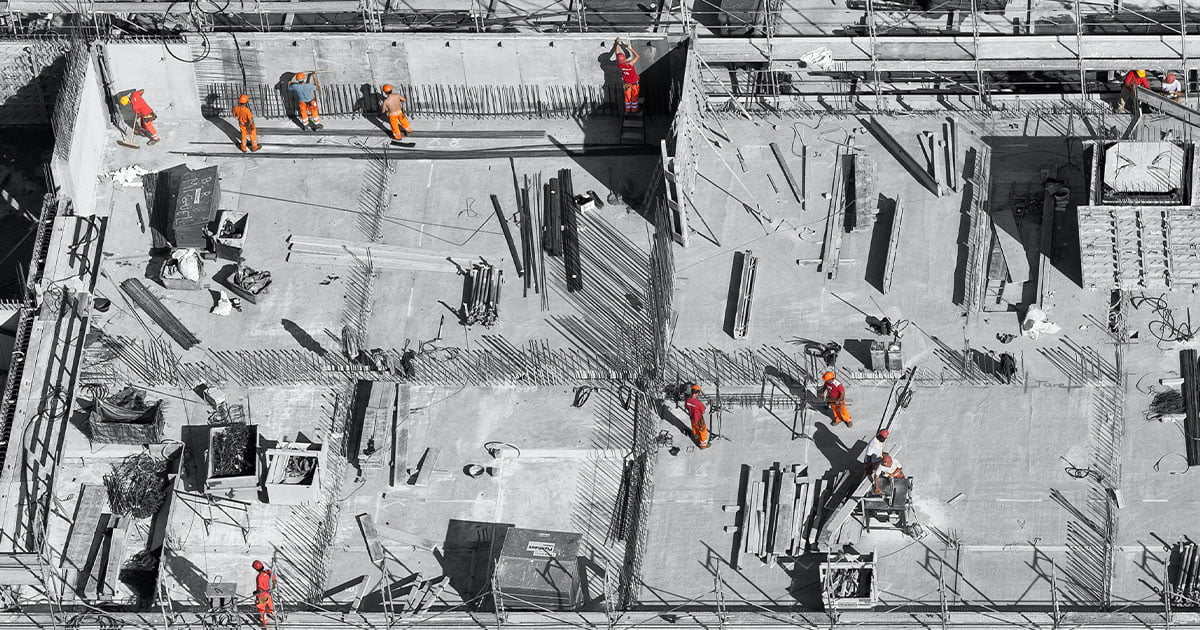 Risk Management
Risk management is a critical component of the construction industry, aimed at mitigating potential risks associated with construction projects, ensuring the successful execution of these endeavors, and protecting the interests of all parties involved.
Mitigating risks associated with construction projects is a proactive approach to identifying, assessing, and addressing potential threats to the project's success. Risks can encompass a broad spectrum, including delays, cost overruns, safety hazards, and quality control issues. Construction professionals carefully evaluate these risks and implement strategies to minimize their impact.
Managing insurance and liability concerns is another integral aspect of risk management. Construction projects inherently involve various parties, from owners and contractors to subcontractors and suppliers. Insurance and liability coverage ensure that in the event of unforeseen circumstances or accidents, parties are protected from financial and legal consequences.
Protecting the interests of all parties involved is a fundamental principle of risk management. By identifying and addressing potential risks, construction professionals aim to create an environment in which the interests of all stakeholders are safeguarded. Clear contractual agreements, well-defined responsibilities, and effective communication are essential in this regard.
Conclusion
In conclusion, general construction contractors play a vital role in the construction industry. They hold the entire construction project together, overseeing and managing all aspects from start to finish. Their responsibilities are extensive, encompassing project management, budgeting, quality control, problem-solving, and risk management, among others.
The impact of their duties on the success of construction projects cannot be overstated. A skilled and reliable general contractor can ensure that a project stays on schedule, within budget, and meets design specifications. Their ability to coordinate various aspects of the project, hire and supervise subcontractors and workers, and address challenges is fundamental to achieving a successful outcome. Compliance with local regulations, permits, safety measures, and client communication are also areas where their expertise is invaluable.
Choosing a reliable and skilled contractor is of utmost importance for any construction project. The right contractor can make the difference between a smoothly executed project and one fraught with delays, cost overruns, and quality issues. Clients and stakeholders must thoroughly assess the qualifications, experience, and track record of potential contractors before making a selection.
In a dynamic and complex field like construction, the role of a construction general contractor is indispensable. Their expertise and ability to navigate the multifaceted challenges of construction projects are central to ensuring that these endeavors are not only completed but completed successfully. The importance of choosing a contractor who is not only skilled but also reliable cannot be underestimated, as this decision can significantly influence the project's outcome and overall success.
for more information about GENERAL CONTRACTING LICENSE in the NYC Department of Buildings, you can click here.