Building renovation process in NYC
Hamoun Nik
When embarking on a building renovation project, it is important to establish your renovation goals and determine the extent of the project.
Define your building renovation goals:
You have two main types of renovation to consider: interior renovation and exterior renovation.
Interior renovation focuses on enhancing the existing space without altering the floor area, means of egress, or use of the property. Essentially, it involves making improvements within the existing framework without affecting the Certificate of Occupancy. This type of renovation may involve adding rooms, updating the kitchen, improving energy efficiency, or making cosmetic changes that enhance the interior aesthetics and functionality.
On the other hand, exterior renovation encompasses more extensive modifications that affect the building's means of egress, floor area, and overall use. It includes enlargements and extensions in both vertical and horizontal dimensions. With the exterior renovation, you may be altering the means of egress, adding floor area or additional units, and, as a result, you will likely need to obtain a new Certificate of Occupancy to reflect the changes made to the property.
To embark on a successful renovation journey, start by defining your renovation goals. Consider whether you are planning a full-scale renovation or focusing on specific areas that require improvement. Identify the specific changes you wish to make, such as adding rooms, updating the kitchen, or enhancing energy efficiency. This will help you establish a clear direction for your project.
When it comes to interior renovation, keep in mind that you should not modify the building's floor area or means of egress. Essentially, you want to improve the existing space without affecting the Certificate of Occupancy. On the other hand, exterior renovation involves more significant alterations that impact the means of egress, floor area, and overall use of the property. It may involve enlargements, extensions, and changes that necessitate obtaining a new Certificate of Occupancy to reflect the transformed space.
( if you want to know more about floor area and how is it calculated, you can read another blog post by clicking here)
Understanding regulations like zoning and building codes and permits
It is crucial to have a thorough understanding of the local regulations and permit requirements that govern construction activities. Familiarizing yourself with the specific building codes, zoning regulations, and permit procedures is essential for a successful and compliant renovation.
New York City has stringent regulations in place to ensure the safety and integrity of buildings. Before starting any renovation work, it is important to research and become familiar with the applicable codes and regulations. These regulations cover various aspects, including structural modifications, plumbing, electrical systems, and fire safety.
Renovations often necessitate obtaining permits from the relevant authorities, especially for projects involving structural changes or modifications to essential systems. These permits serve as official authorizations that ensure the renovation work complies with the established standards and regulations. Common examples of permits required for renovations include plumbing permits, electrical permits, and permits for alterations to load-bearing walls or fire safety systems.
To begin, research the local building codes and regulations applicable to your renovation project. The New York City Department of Buildings (DOB) is the primary authority responsible for overseeing construction activities and enforcing compliance. Their website provides valuable resources, including information on codes, regulations, and permit application processes. Additionally, you can consult with professionals such as architects, designers, or contractors who have experience with NYC renovations to ensure you have accurate and up-to-date information.
As part of the permit application process, you will need to submit detailed renovation plans, including architectural drawings, engineering calculations (if applicable), and other relevant documentation. The DOB will review these plans to verify compliance with regulations and issue permits once approved. It is crucial to allow sufficient time for this process, as it can take several weeks or longer.
By familiarizing yourself with local regulations and obtaining the necessary permits, you demonstrate your commitment to adhering to the highest standards of safety and compliance in your renovation project. This not only ensures the integrity of the building but also mitigates the risk of fines or penalties for non-compliance.
( if you want to know more about NYC Zoning, you can read another blog post by clicking here)
Remember, it is essential to consult with an Architect and engage experts who are knowledgeable about local regulations to guide you through the process smoothly. Their expertise will help you navigate the complexities of obtaining permits and ensure your renovation project meets all the necessary requirements.
Hire professionals:
it is crucial to enlist the expertise of professionals who can bring your vision to life while ensuring compliance with building regulations. Hiring an architect or designer is a key step in creating renovation plans that align with your goals and meet the standards set by NYC regulations. It is important to verify that they are licensed and possess experience working on projects in the city.
An architect will work closely with you to understand your requirements, preferences, and budget. They will then translate your ideas into detailed renovation plans that encompass both aesthetics and functionality. These professionals have a deep understanding of building codes and regulations, ensuring that your plans comply with all the necessary requirements.
Depending on the complexity of your renovation, you may also need to consult with structural engineers or other specialists. Structural engineers are particularly important when it comes to projects involving structural modifications or additions. Their expertise ensures that the changes you make to the building are structurally sound and meet safety standards.
Additionally, other specialists such as electrical engineers, mechanical engineers, or HVAC professionals may be required for specific aspects of the renovation. Their input will help ensure that the electrical, plumbing, and mechanical systems are properly integrated into the design.
When hiring professionals, it is important to conduct thorough research and review their credentials. Look for architects, designers, and engineers who are licensed and experienced in working on projects in NYC. Request references and review their past work to gauge their competence and expertise.
(HN REPUBLIC previous projects, for your reference)
Determine your renovation budget and allocate funds
to establish a well-defined budget to guide your expenses throughout the process. Determining your renovation budget requires careful consideration of various factors and allocating funds for design, materials, labor, permits, and unexpected costs.
Start by assessing your financial resources and determining how much you can comfortably allocate to the renovation. Consider your overall financial goals and ensure that the renovation aligns with your long-term plans.
To create an accurate budget, conduct thorough research on the average costs of similar renovations in New York City. This will give you a realistic understanding of the expenses involved and help you set appropriate budgetary expectations. Factors such as the size of the project, desired materials and finishes, and the complexity of the renovation can significantly impact the costs.
Allocate funds for different aspects of the renovation, including design fees, which may involve hiring architects or designers. Material costs should be accounted for based on the desired quality and type of materials. Labor costs will depend on the scope of work and the professionals you hire for construction and installation.
It is crucial to include permit costs in your budget as most renovations in NYC require permits, and these fees can vary based on the project's scale and complexity. Additionally, setting aside a contingency budget for unexpected expenses or unforeseen issues that may arise during the renovation process is highly advisable.
Throughout the project, regularly track and monitor your expenses to ensure they remain within the allocated budget. Be prepared to make adjustments if necessary while keeping in mind your overall financial goals and priorities.
Obtain necessary permits:
Obtaining the necessary approvals and permits from the NYC Department of Buildings (DOB) is a critical step in the renovation process. To begin, you must submit your detailed renovation plans to the DOB for review. The department will carefully assess the plans to ensure they comply with all applicable regulations and building codes. Once your plans are approved, the DOB will issue the required permits, allowing you to proceed with the renovation.
It is important to allocate sufficient time for the approval process, as it can take several weeks or even longer. The DOB receives numerous submissions and must thoroughly review each one to ensure compliance with the complex regulations in place. Therefore, it is advisable to submit your plans well in advance of your intended start date to avoid delays.
During the review process, the DOB may provide feedback or request additional information to ensure that your plans meet all the necessary requirements. It is crucial to address any concerns promptly and make the required revisions as instructed by the DOB. This collaboration will help ensure a smooth and efficient approval process.
Once the DOB approves your plans and issues the permits, you will have official authorization to proceed with your renovation project. It is essential to keep a copy of the permits on-site for inspections and to maintain compliance with local regulations throughout the construction phase.
Hire contractors:
When it comes to hiring contractors for your renovation project in New York City, it is crucial to take a diligent approach. Start by obtaining quotes from licensed and insured contractors who specialize in NYC renovations. To ensure you choose the right contractor, seek recommendations from trusted sources, check references provided by the contractors, and review their past work to gauge their expertise and quality of craftsmanship.
During the selection process, it is essential to assess whether the contractors understand the scope of your project and have experience handling similar renovations. They should have a solid understanding of local building codes and regulations to ensure compliance throughout the construction process.
Discuss your project timeline and budget with the contractors. Ensure they can realistically complete the renovation within your desired timeframe and that their pricing aligns with your budgetary constraints. Clear communication about expectations, deliverables, and payment terms is essential to establish a solid working relationship.
Ask contractors for detailed proposals outlining the scope of work, materials, and costs involved. This will help you compare their offerings and make an informed decision based on the best fit for your project.
When evaluating contractors, pay attention to their communication skills, professionalism, and responsiveness. A contractor who is attentive, transparent, and maintains open lines of communication is more likely to provide a smooth and satisfactory renovation experience.
Plan for temporary relocation:
During extensive renovation projects, it is essential to carefully consider whether temporary relocation is necessary. Assess the scope of your renovation and evaluate the potential disruption to your daily life. If it is likely that the construction process will significantly impact your living conditions, it may be prudent to plan for temporary relocation during this period.
Temporary relocation allows you to avoid the inconveniences associated with living in a construction zone. It ensures your safety and well-being while providing contractors with the space and freedom to complete the renovation efficiently. Evaluate the duration of the project and determine if the disruption outweighs the benefits of staying in your home.
If you decide to temporarily move out, make appropriate arrangements for alternative accommodations. Consider options such as staying with family or friends, renting a short-term furnished apartment, or booking a hotel room. Take into account factors such as proximity to your home, cost, and suitability for your needs.
Begin construction: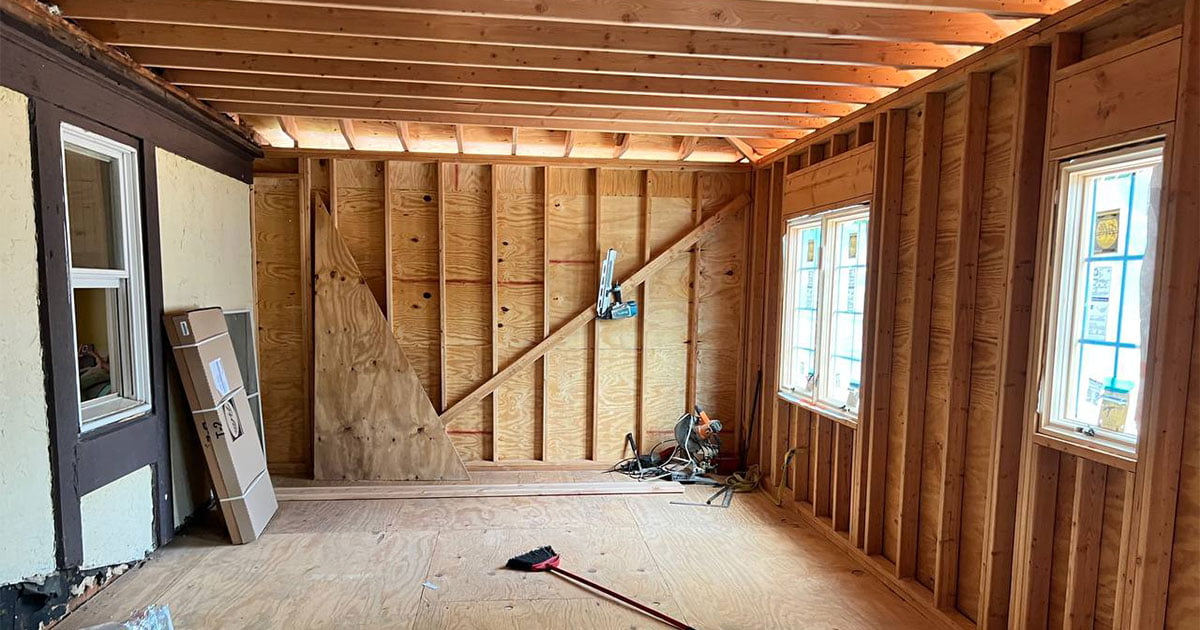 After obtaining the necessary permits, it's time to commence the construction phase of your renovation project. Collaborate closely with your contractor to establish a well-defined construction timeline. Regularly monitor the progress of the work, addressing any issues or changes that may arise along the way. Maintaining open and consistent communication with your contractor is key to staying informed about the status of the project.
Once the permits are in hand, work closely with your contractor to set a detailed construction timeline. This timeline should outline the various stages of the renovation and provide a clear schedule for each step of the process. Regularly review and assess the progress to ensure it aligns with the established timeline.
As construction progresses, closely monitor the work being done. Regular site visits or check-ins with your contractor will help you stay updated on the project's status and address any concerns promptly. Open communication is crucial to addressing unexpected challenges or changes that may arise during the construction phase.
Maintain a collaborative relationship with your contractor, fostering a transparent and respectful environment for effective communication. Be proactive in sharing your feedback, discussing any modifications, and seeking clarification whenever necessary.
Final as-built inspection to complete the project:
As your renovation nears completion, it is crucial to conduct a thorough inspection to ensure that the finished work aligns with your expectations and adheres to the agreed-upon plans. Take the time to carefully assess every detail, ensuring that the renovation meets your desired outcome.
but if you see some changes in the layout and finished work, its necessary to provide the as-built layout to match them together before DOB final inspection
Begin by examining each aspect of the renovation, paying close attention to the quality of the workmanship, the functionality of the newly updated areas, and the overall aesthetics. Compare the finished result to the initial plans and specifications to ensure that everything has been executed accordingly.
If there are any deviations or concerns, communicate them with your contractor promptly. Addressing any issues at this stage allows for timely resolutions and ensures that the final product aligns with your vision.
Additionally, it is essential to obtain any necessary certifications or inspections required by the NYC Department of Buildings (DOB) or other relevant authorities. This may include obtaining a final Certificate of Occupancy or arranging for inspections to ensure compliance with codes and regulations.
Remember that the specific requirements for your renovation project may vary. It is crucial to research and comply with all applicable local laws and regulations and consult with professionals to ensure a smooth and successful renovation process in New York City.