Brutalist Architecture
Hamoun Nik
Introduction of brutalist architecture.
Brutalist architecture, an intriguing and polarizing design movement, emerged in the mid-20th century, leaving an indelible mark on the architectural world. This blog post provides an insightful introduction to Brutalism, shedding light on its historical roots, key characteristics, and significance in architectural history.
Concept of Brutalist Architecture
Brutalist architecture is an architectural style characterized by its bold use of raw concrete, imposing geometric forms, and a distinct focus on functionality over ornamentation. The term "Brutalism" is derived from the French word "béton brut," which means "raw concrete." This moniker encapsulates the essence of Brutalism – an unapologetic and honest approach to design, where concrete is left exposed in all its rugged glory.
Historical Emergence and Roots in Functionalism
The roots of Brutalism can be traced back to the post-World War II era, notably in the United Kingdom. The movement emerged as a response to the reconstruction projects that were essential in the aftermath of the war. It was rooted in the ideals of functionalism and monumental simplicity. Brutalist architects aimed to create buildings that served their purpose efficiently while embodying a sense of strength and permanence. The use of concrete was not merely an aesthetic choice but a reflection of the materials available during the reconstruction period.
Significance in Architectural History
Brutalism holds significant importance in the history of architecture for several reasons. First and foremost, it represents a departure from traditional architectural norms, challenging the prevalent use of decorative elements. It boldly presents the structural and functional aspects of buildings, embracing an uncompromising honesty in design.
Furthermore, Brutalism sparked passionate debates within the architectural community and the public at large. While some lauded its striking, often monumental presence, others decried its austere and imposing nature. This polarity of opinions contributed to the movement's significance, as it encouraged discussions about the role of architecture in society.
Historical Foundations of Brutalist Architecture
Brutalist architecture, a defining movement of the mid-20th century, found its roots in a post-World War II world filled with changing ideologies and challenges. This blog post delves into the historical foundations of Brutalism, exploring the context in which it emerged, the influences and ideologies that shaped it, and the notable architects who left an indelible mark on the movement.
Post-World War II Context
After the ravages of World War II, architects faced a changed world. The need for reconstruction and the availability of materials like concrete played a significant role in shaping Brutalism. Architects sought to create structures that embodied strength, permanence, and functionality in a post-war era marked by uncertainty.
Influences and Ideologies
Functionalism, an architectural philosophy centered on the practicality and efficiency of design, heavily influenced Brutalism. Architects aimed to create buildings that served their purpose with honesty, emphasizing structural elements and utility over ornamental design. The movement also embraced a rejection of ornamentation, opting for an unapologetic rawness that gave rise to the term "béton brut" or "raw concrete."
Key Architects and Their Contributions
Architects such as Alison and Peter Smithson, the pioneers of Brutalism, left an enduring legacy. Their work, including the Hunstanton School and Robin Hood Gardens, showcased the movement's defining features. Le Corbusier, a renowned architect, played a significant role in Brutalism's global spread. His iconic Unité d'Habitation in Marseille exemplified the movement's principles.
Concrete became the primary medium for architects, allowing them to craft monumental structures with an uncompromising aesthetic. These architects, along with others like Ernő Goldfinger and Marcel Breuer, transformed Brutalism into a global movement, leaving behind a legacy that continues to shape architectural discourse.
Characteristics of Brutalism and Brutalist Architecture
Brutalism, a captivating architectural style that emerged in the mid-20th century, is renowned for its unique characteristics that set it apart from traditional designs. This blog post delves into the distinctive features of Brutalist architecture, highlighting its reliance on raw concrete, geometric shapes, and massive, block-like structures while emphasizing its unwavering commitment to functionality and the absence of ornamentation.
Raw Concrete Aesthetic: One of the defining features of Brutalism is its bold use of raw concrete. Buildings crafted in this style proudly showcase the unadorned beauty of this material. Rather than concealing concrete behind layers of paint or decorative elements, Brutalist architects allow it to stand exposed, celebrating its rugged, industrial texture. This "béton brut" approach, meaning "raw concrete" in French, has become synonymous with the movement.
Geometric Shapes:
Brutalism thrives on geometric precision. Architects create structures characterized by sharp angles, imposing squares, and geometric forms that convey a sense of solidity and strength. These bold shapes contribute to the movement's often monumental presence, making Brutalist buildings instantly recognizable.
Blocky Structures:
The heaviness and block-like structures are another hallmark of Brutalism. Buildings in this style often appear massive and solid, emphasizing their structural integrity. These formidable structures embody a sense of permanence and endurance, reflecting the architectural response to the post-World War II era.
Focus on Functionality:
Brutalism places functionality at the forefront of design. Unlike ornate architectural styles, Brutalist buildings are designed to serve their purpose efficiently. This focus on practicality results in spaces that are straightforward, honest, and optimized for their intended use.
Absence of Ornamentation:
Ornamentation is a foreign concept in Brutalist architecture. Instead of decorative elements, Brutalist structures showcase the innate beauty of the materials used, allowing the unembellished forms and textures to speak for themselves. This absence of ornamentation underscores the movement's commitment to a pure and raw aesthetic.
Controversies and Criticisms about Brutalist Architecture
Brutalism is an architectural style that has consistently stirred up strong emotions and divided opinions. This blog post explores the controversies and criticisms surrounding Brutalism, shedding light on its polarizing nature and its profound impact on public opinion.
Polarizing Aesthetic:
Brutalism's use of raw concrete, bold geometric shapes, and blocky structures often elicits love or hate responses. Some see beauty in its honesty and functionality, while others find it stark and unwelcoming. The polarizing nature of Brutalism can be traced back to its bold departure from traditional architectural norms.
Public Opinion:
Public opinion on Brutalism has evolved over the years. In the mid-20th century, it was met with enthusiasm as a symbol of modernity and progress. However, as the movement matured, criticism mounted. Many considered Brutalist buildings cold and imposing, lacking warmth and aesthetics.
Architects' Perspective:
Architects, too, hold varying opinions. Some champion Brutalism for its innovation and the way it expresses the structural integrity of buildings. Others criticize it for being monolithic and unsympathetic to the surrounding environment.
Scholars' Insights:
Scholars have engaged in debates about Brutalism's merits. While some argue that it's an important architectural movement that challenged conventions, others view it as a symbol of architectural arrogance.
Conservation Efforts:
The preservation of Brutalist structures has become a topic of debate. Some argue for their historical and architectural significance, while others advocate for their demolition or modification due to maintenance challenges and public disdain.
Notable Brutalist Buildings (Brutalist Architecture Examples)
Brutalist architecture has produced some of the world's most iconic and unique structures, known for their distinctive use of raw concrete and bold design. In this blog post, we'll explore some notable Brutalist buildings from around the world, highlighting their designs, histories, and significance.
The Barbican Centre, London, UK:
One of the most famous Brutalist complexes, the Barbican Centre features a maze of residential apartments, theaters, and an arts center. Completed in the 1980s, it is a symbol of Brutalism's integration into urban environments.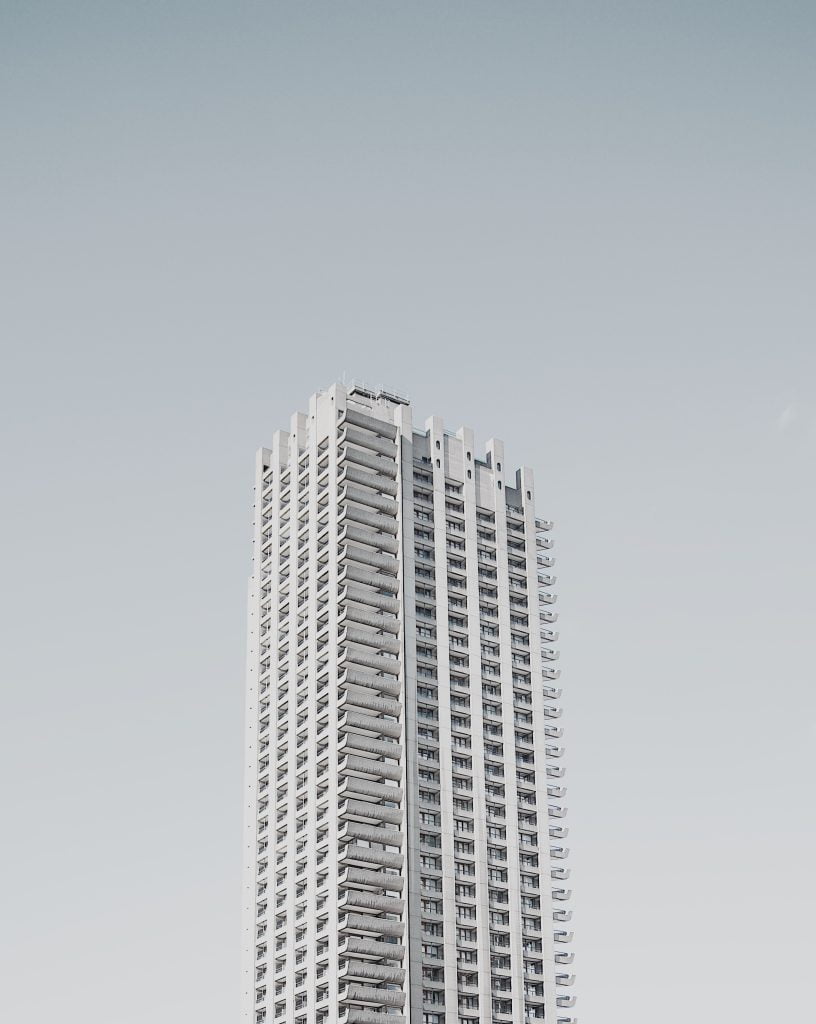 Trellick Tower, London, UK:
Designed by Ernő Goldfinger and completed in 1972, Trellick Tower is an iconic residential building. Its geometric design and striking profile have made it a landmark in London's skyline.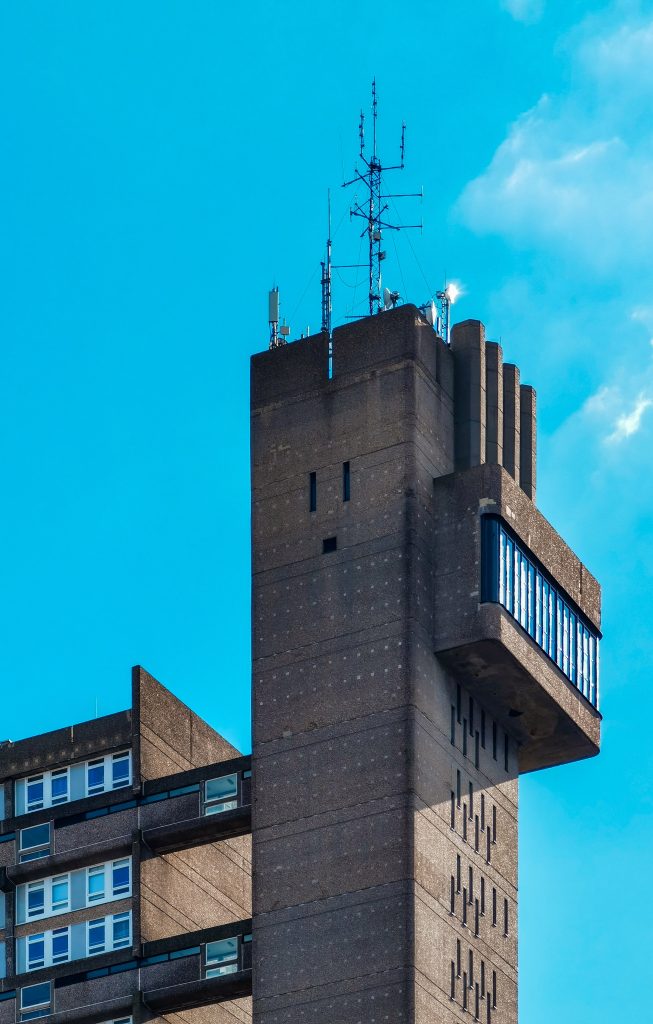 National Theatre, London, UK:
Another London gem, the National Theatre boasts a concrete façade adorned with textured relief patterns. It has played a crucial role in the city's cultural life since its opening in 1976.
Boston City Hall, Boston, USA:
A masterpiece of Brutalist architecture, Boston City Hall was completed in 1968. Its unique inverted ziggurat design reflects the period's experimental spirit.
Unité d'Habitation, Marseille, France:
Designed by Le Corbusier, this residential building is a prime example of Brutalism's early influence. Completed in 1952, it revolutionized housing design with its vertical garden city concept.
Brutalist Church of St. Jean Bosco, Paris, France:
This church stands as a striking example of Brutalist ecclesiastical architecture. Completed in 1961, it showcases the adaptability of the Brutalist style.
Each of these buildings represents the enduring impact of Brutalism on the architectural world. They blend form and function, making powerful statements about the beauty and significance of raw concrete structures. While opinions on Brutalism may vary, these buildings have undeniably left an indelible mark on the world of architecture.
AT&T Building, Manhattan, New York City, US
The AT&T Long Lines Building, located at 33 Thomas Street in Manhattan, is an iconic skyscraper that played a significant role in telecommunications history. It was constructed in the mid-20th century to serve as a major hub for AT&T's long-distance telephone lines and was designed to withstand a nuclear blast, making it a symbol of the Cold War era. This building is a prime example of Brutalist architecture, characterized by its imposing concrete facade and minimalistic design.
The AT&T Building at 33 Thomas Street was known for its secretive and secure operations. While its exterior is stark, the interior was filled with advanced telecommunications equipment. Although it no longer serves as a central hub for long-distance calls, the building's historical and architectural significance endures, and it remains a distinctive presence in the Manhattan skyline.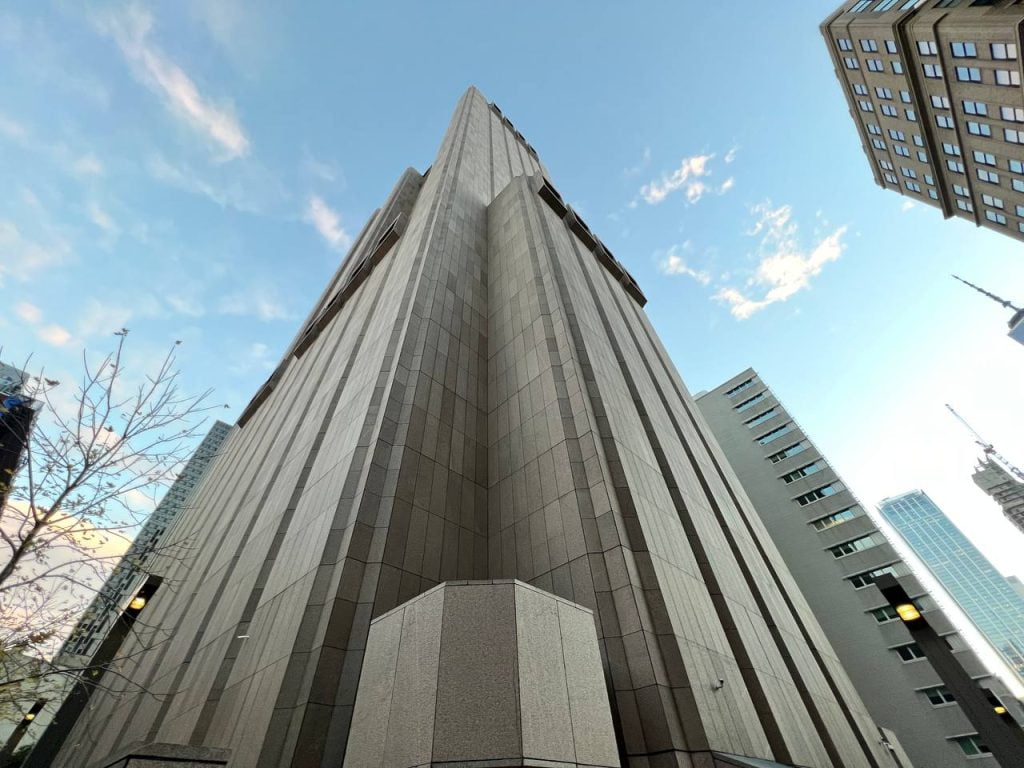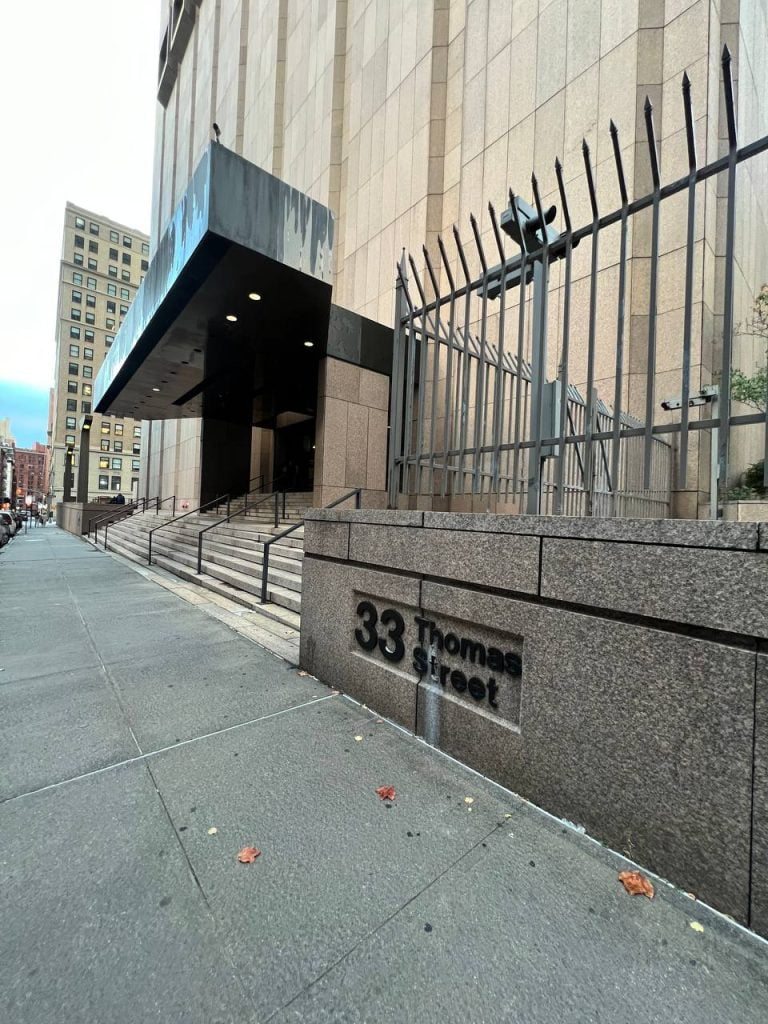 Brutalism Today
Brutalism, a post-war architectural movement known for its bold use of raw concrete and functional designs, has left an indelible mark on contemporary architecture. In this blog post, we will explore the enduring legacy of Brutalism, its preservation, repurposing, and the architects who draw inspiration from this iconic style.
Enduring Legacy:
Despite the divisive opinions it once elicited, Brutalism is experiencing a resurgence in appreciation. Many Brutalist structures have come to be regarded as architectural treasures. For example, the Barbican Centre in London, with its maze of apartments, theaters, and arts centers, has found a place in the heart of urban life, symbolizing Brutalism's integration into modern cityscapes.
Preservation and Repurposing:
Preserving Brutalist buildings has become a global endeavor. Efforts have been made to repurpose these structures for contemporary use. The Trellick Tower in London, designed by Ernő Goldfinger, stands as a remarkable example. Initially criticized, it has become a cherished residential building, illustrating the adaptability and enduring appeal of Brutalism.
Architectural Inspiration:
Contemporary architects are drawing inspiration from Brutalism in their designs. The impact of Le Corbusier, one of Brutalism's pioneers, remains influential. His ideas of functional and versatile architecture are evident in buildings like the National Museum of Western Art in Tokyo, designed by Le Corbusier himself.
Additionally, architects like Peter Zumthor and David Chipperfield have integrated Brutalist principles into their works, emphasizing materials and form. Their designs pay homage to Brutalism's unadorned aesthetic.
In conclusion
Brutalism has transitioned from an architectural movement of controversy to one of appreciation and influence in contemporary architecture. Its legacy is celebrated through the preservation of iconic buildings and the inspiration it provides to modern architects. The enduring spirit of Brutalism continues to shape our architectural landscape, emphasizing functionality, form, and the beauty of raw concrete.
<<<If you want to know more about Renaissance Art and Architecture you can click here>>>
<<<If you want to know more about Gothic Architecture and History you can click here>>>
Sources:
Library of Congress – What's So Brutal about Brutalism?