DOB CCD1 form
Hamoun Nik
The Construction Code Determination 1 or  NYC Department Of Buildings CCD1 form is a critical tool used in construction projects under the jurisdiction of the New York City Department of Buildings (NYC DOB). This form enables individuals and entities involved in construction to seek clarifications and variances related to specific construction codes and laws.
In this Blog Post, we will explore the circumstances that warrant the filing of a CCD1 form with the NYC DOB, based on the information provided.
 CCD1 FORM For Clarifying Specific Construction Codes or Laws
One of the primary reasons for filing a CCD1 form is to seek clarification on specific construction codes or laws. During the planning phase of a construction project, uncertainties or ambiguities may arise concerning the application of specific codes or regulations. By filing a CCD1 form, project stakeholders can submit questions to the NYC DOB and receive authoritative interpretations that guide them in adhering to the appropriate building standards.
Predetermination for Pre-Filing Concerns
CCD1 forms can also be used for predetermination purposes. This means that before submitting an official construction application, applicants can seek guidance from the NYC DOB regarding potential code issues or compliance concerns. Obtaining predetermination can help address possible obstacles in the early stages of project planning and prevent delays in the permitting process.
Variation Request for Different Code Interpretations
In some cases, construction projects may require specific variations from the standard construction code. Filing a CCD1 form allows applicants to request variations that deviate from particular code provisions while ensuring compliance with safety and building regulations. Each CCD1 form addresses only one specific issue or variance request, and separate fees apply for multiple problems.
Appeal for Objections and Denials
If a construction project faces objections or denials during the plan examination process, stakeholders have the option to appeal these decisions. CCD1 forms can be used for plan exam appeals, enabling project applicants to present their case and seek reconsideration of the initial decision.
This appeals process provides a mechanism for resolving disputes and ensuring that legitimate concerns are adequately addressed.
Determination Not for Code Compliance or Accessibility Waivers
It's crucial to note that CCD1 forms should not be used for general code compliance or accessibility waivers. These matters are usually addressed through other channels, and CCD1 forms are specifically reserved for seeking interpretations and variances related to specific construction code issues.
If a construction project encounters hardships or special circumstances that require deviations from code requirements, the CCD1 form can be utilized.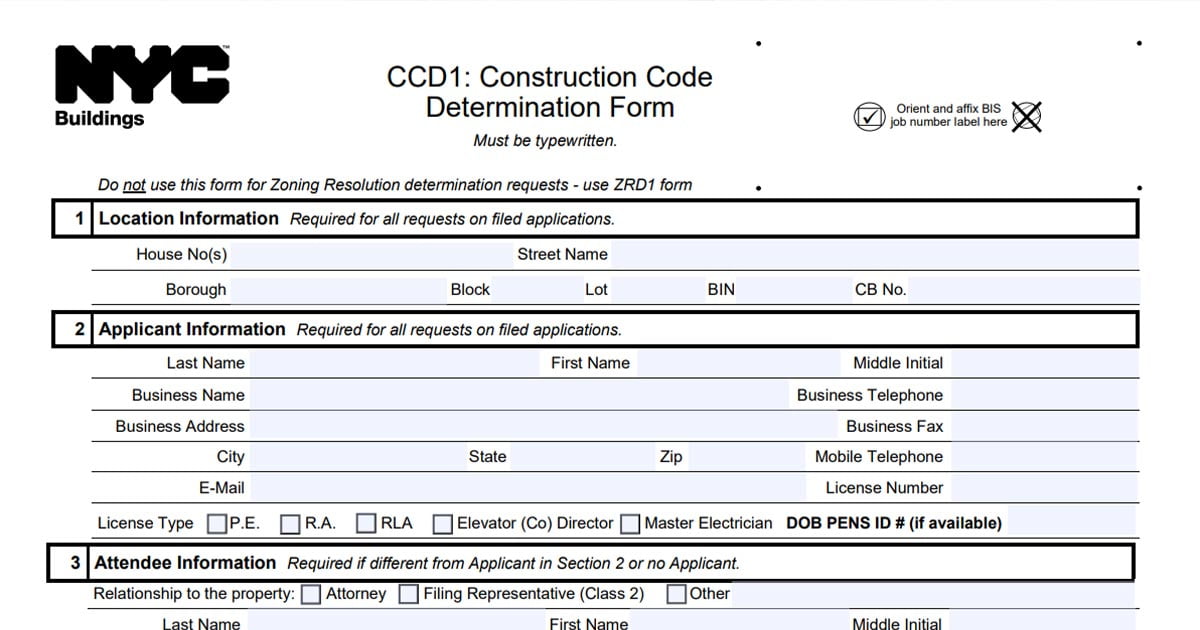 Conclusion
The CCD1 form serves as a valuable resource for construction projects in New York City. It allows applicants to seek authoritative interpretations of construction codes, request variations, and appeal plan examination decisions.
The form plays a crucial role in ensuring compliance with building regulations and standards while addressing unique circumstances that may arise during construction projects. However, it is essential to understand when to file a CCD1 form correctly and to seek professional guidance when necessary.
By leveraging the CCD1 form effectively, stakeholders can navigate the complexities of construction regulations and contribute to the successful completion of safe and compliant construction projects in NYC.
If you need to get more information about the Building Renovation Process in New York City and get a General idea about it, you can read the related blog post by clicking here.
We appreciate you taking the time to read our post. We are eager to learn about your projects and ideas. If you have any questions or need further information, please feel free to reach out to us. We are here to assist and support you in any way we can. Your feedback and input are essential to us, and we strive to foster an open and collaborative environment.