DOB ZRD1 form
Hamoun Nik
The New York City Department of Buildings (DOB) plays a crucial role in ensuring the safety and compliance of construction projects within the city. As part of its regulatory process, the DOB offers the ZRD1 form, also known as the Zoning Resolution Determination form, which serves as a vital tool for seeking authoritative interpretations of specific Zoning Resolutions. This essay aims to delve into the significance of the ZRD1 form, its purpose, and the situations when it is necessary to file it with the NYC DOB.
The ZRD1 Form: A Key to Zoning Clarity
The ZRD1 form is a powerful resource that allows construction project stakeholders to seek clarity on complex zoning regulations. It serves as a means to obtain official interpretations regarding specific Zoning Resolutions, providing essential guidance during the planning and compliance phases of a construction project. By utilizing the ZRD1 form, applicants can ensure that their projects adhere to the appropriate zoning standards.
Situations Requiring ZRD1 Form Filings
Predetermination Concerns
During the initial stages of a construction project, uncertainties may arise regarding the application of Zoning Resolutions. In such cases, applicants can file a ZRD1 form to seek predetermination on zoning matters. This proactive step helps in avoiding potential zoning violations and ensures that the project is aligned with the city's zoning requirements.
Variation Requests
Projects that require variations from standard zoning regulations can benefit from filing a ZRD1 form. Whether it's related to building height, setback requirements, or other zoning parameters, applicants can request official guidance through the ZRD1 form. This process enables the DOB to evaluate whether a variance aligns with the city's zoning goals and regulations.
Appeals and Objections
In some instances, plan examiners' interpretations of zoning regulations may not align with the project's design. When faced with objections from plan examiners, applicants can file a ZRD1 form to appeal and present their case for an alternative interpretation. This allows for a fair and transparent resolution of zoning-related disputes.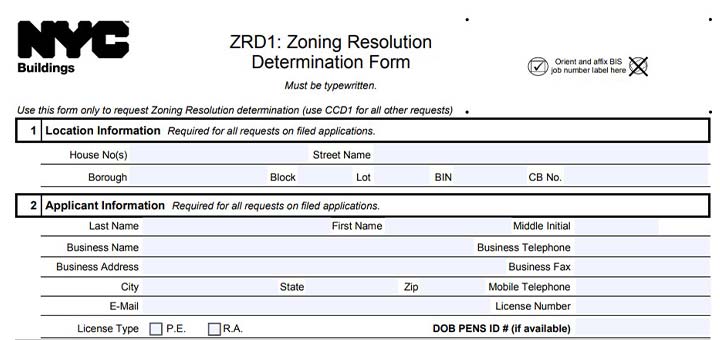 The ZRD1 Form Filing Process
The process of filing a ZRD1 form with the NYC DOB involves careful completion and submission of the necessary documents. Applicants must provide comprehensive background information on the project, including zoning district details, nearby districts, yard locations, street width, open spaces, special purpose designations, and floor area representations. Additionally, new buildings or enlargements must submit a Zoning Diagram (ZD1 Form) with axonometric diagrams and relevant zoning resolution citations.
Importance of Accurate Zoning Submissions
Accurate and complete zoning submissions are critical for a smooth review process. The DOB has specific Plan Examination Guidelines to ensure minimum information requirements are met, reducing the need for multiple appointments and enhancing the efficiency of the review process. Incomplete submissions may result in rejection, requiring applicants to retrieve the rejected application from the Record Room and address any missing information.
If you need to get more information about the Building Renovation Process in New York City and get a General idea about it, you can read the related blog post by clicking here.
We appreciate you taking the time to read our post. We are eager to learn about your projects and ideas. If you have any questions or need further information, please feel free to reach out to us. We are here to assist and support you in any way we can. Your feedback and input are essential to us, and we strive to foster an open and collaborative environment.